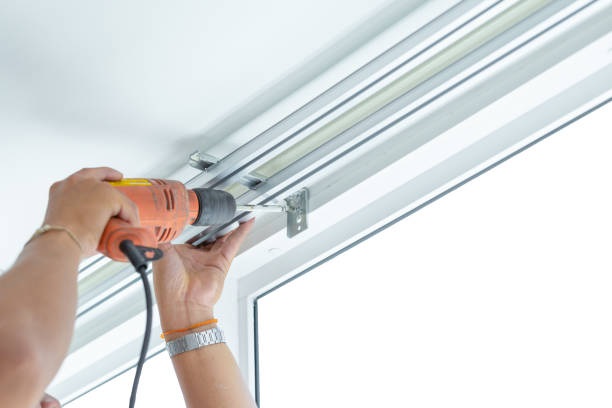 curtains installation are the most essential part of home décor because of their versatility and timeless appearance. Apart from being one of the cost-effective home decorative accessories, they complement every décor. Many of us try to do curtains installation in a way we see in YouTube tutorials, lifestyle magazines, and on websites. But sometimes we are disappointed when we don't get the perfect results. To make your window treatments look outstanding, make sure you haven't made any of the following mistakes while doing curtains installation.
What Mistakes To Avoid When Doing Curtains Installation?
Don't Let The Curtains Installation Process Become Overwhelming
Many of us try to do curtains installation on our own, and the amount of work can be overwhelming. You should know how to exactly use the right accessories, how to install the rods and brackets properly, how to take accurate measurements, and much more. Everyone does mistakes under all that pressure and it's no wonder. Trying to follow the same steps as you see in the tutorials can make things worse as every room has distinctive requirements.
To avoid these mistakes, all you need is to do deep research or consult with professionals who can better guide you about your DIY project.
Don't Measure The Wrong Window's Size & Curtain's Length
Many homeowners can't figure out the exact curtain's length and end up getting fabric that is too short or too long. This single mistake can have a huge impact on the overall look of the window treatments.
Therefore, it is advisable to first measure your windows accurately and then estimate the length of your curtains accordingly. Keep the curtain's width twice that of the windows and the length longer than necessary so that you can adjust it later depending on the requirements.
Measure The Curtain Rod's Height Perfectly
The most common mistake homeowners do while doing curtains installation is they hang curtains right on the window frame. Hanging the curtains too low shortens the window's height whereas hanging them too high will decrease their functionality. Therefore, it is very important to measure the height of your curtain rod properly.
Make Sure Your Curtain Heading Style Compliments Your Décor
Whether you are buying readymade curtains or customized ones, considering the heading style is very important. Heading comes in several styles such as pinch, inverted, rod pocket, and goblet pleats, and each is suited to specific décor. Make sure to always choose the right heading style. For example, a grommet pleat heading style will go perfectly with contemporary décor.
Match Your Accessories And Tools
In addition to rods and curtains, you'll need hooks, tassels, tabs, rod holders, grommets, and rod pockets. And all these accessories should complement each other to make your curtains look well-balanced and visually appealing. Many people neglect these details while doing curtains installation on their own.
It's essential to invest time in curtains installation. We've outlined the common mistakes to avoid while hanging your curtains to achieve the desired results!